Our Church
We, the parish family of Saint Peter Claver, are a Catholic faith community within the Archdiocese of Los Angeles and the Universal Church. Firm in the hope of the Gospel of Jesus Christ and inspired by the example of our patron, we proclaim the kingdom of God to embrace everyone in love without discrimination of any kind. We are devoted to worship, to witness, and joyful service in the Spirit.
Registration for the 2023-2024 Youth Ministry Season will open on June 12th. Soon, you will be able to download a Registration Form on our Parish Website, ask the Faith Formation Office to email you a Registration Form, or come to the Office to register. Please note that the Faith Formation Staff is currently working in the Youth Ministry Office located in the Youth Center, while repairs are being completed in the Faith Formation Office.

Congratulations to our NEWLY CONFIRMED!

Catholics dedicate the month of June to the Sacred Heart of Jesus, in veneration and in gratitude for His merciful heart and His redeeming love for humankind.
MASS AND RECONCILIATION
SATURDAY VIGIL MASS:
5:00pm and 7:00pm Spanish

SUNDAY MASSES:
8:00am, 10:00am, 12:00 Noon and 5:00pm

DAILY MASS:
7:30am Monday thru Saturday
EUCHARISTIC ADORATION:
From 8:00 am until 7:00 pm Monday through Friday,
the church is open for Eucharistic Adoration or private prayer time.

CONFESSIONS:
3-4:30pm Saturday in the church
Flocknotes
OFFICE HOURS
Rectory:
Monday - 1-4:00pm Tuesday - Friday 9-12pm and 1-4:00pm
Please call (805) 526-6499 or
Email [email protected]
Faith Formation:
Monday-Tuesday 11-7pm Wednesday - Friday 9am-5pm
SECURE ONLINE GIVING
We are most grateful for your continued financial support. Please consider donating online with St. Peter Claver's online giving system, WeShare. Donate today using your debit, credit card, checking or savings account. With WeShare you can make a one-time or recurring donation to a Collection of your choice.

CLICK HERE to safely donate with WeShare.
Let us take a moment to reflect on this weekend's readings...
June 11, 2023
Solemnity of the Body and Blood of Christ
He therefore let you be afflicted with hunger,
and then fed you with manna,
a food unknown to you and your fathers,
in order to show you that not by bread alone does one live,
but by every word that comes forth from the mouth of the LORD.
Deuteronomy 8:3
Brothers and sisters:
The cup of blessing that we bless,
is it not a participation in the blood of Christ?
The bread that we break,
is it not a participation in the body of Christ?
Because the loaf of bread is one,
we, though many, are one body,
for we all partake of the one loaf.
1 Corinthians 10:16-17
Jesus said to them,
"Amen, amen, I say to you,
unless you eat the flesh of the Son of Man and drink his blood,
you do not have life within you.
Whoever eats my flesh and drinks my blood
has eternal life,
and I will raise him on the last day.
John 6:53-54
Ponderings With Fr. Mike

This week we celebrate the great mystery of our faith, the Holy Trinity. For many believers as well as non-believers, this is a perplexing mystery because logically it doesn't make sense how 3 persons can be 1 God without losing any part of itself. Yet that's the great gift of the Trinity, it is a relationship within itself and with us. I use the word gift purposefully because our Trinitarian God, through his self-revelation, has shown us how to be fully human in relationship with God and others. In our attempt to understand the Trinity, the church has formulated two phrases that help to express this mystery. Immanent and Salvific Trinity. Immanent Trinity has to do with how God (Father, Son and Holy Spirit) relate to each other. Salvific Trinity has to do with how God relates to us and our salvation. The gift found within the Trinity is this, God has shared with us how to approach all manner of relationship. We can see how this perfect union of God (immanent) relates to each other. Think of how Jesus prays in the Gospels ("the Father and I are one", "I do the will of the one who sent me") and how he promised to send the Spirit to us at Pentecost. The gift of the Trinity, and our understanding of this relationship, is further developed in the way God relates to us and our salvation (salvific). Throughout salvation history (Old and New Testaments) God has interacted with us and ultimately sent His Son to suffer, die and rise (Paschal Mystery) for our salvation. Even though there are many more questions contained with this Trinitarian mystery, the one aspect we are certain of is that God is relational. We can find evidence of this relationship within the Scriptures. During this week I encourage you to ponder this mystery of the Trinity and how the relationship that is the Trinity can help form your own healthy relationship not only with God but with others as well.
Where is God in this? THOUGHTS FROM YOUR DIRECTOR OF FAITH FORMATION

Beginning Father's Day, June 18th, and for the following eight days, (through Monday, June 26th) prayers for fathers will be offered at Masses celebrated here at St. Peter Claver.
DID YOU KNOW - Review Swimming Safety Rules
- If your children will be cooling off at local pools or the beach this summer, it is time to review some basic water safety rules. Make sure your children have been taught the basics of swimming and water survival skills and review those skills before you send them off. When you go to pools or the beach, consider appointing a rotating water watcher — an adult in charge of watching the water to make sure all the children are safe at all times. For more tips, visit https://www.safekids.org/tip/swimming-safety-tips.
¿Sabia Que?
Revisar las reglas de seguridad para nadir - Si sus hijos se van a refrescar en las piscinas locales o en la playa este verano, es hora de revisar algunas reglas básicas de seguridad en el agua. Asegúrese de que a sus hijos se les hayan enseñado los conceptos básicos de natación y de supervivencia en el agua y repase esas habilidades antes de enviarlos. Cuando vaya a las piscinas o a la playa, considere designar a un vigilante de agua rotativo —un adulto a cargo de vigilar el lugar de natación para asegurarse de que todos los niños estén seguros en todo momento. Para obtener más consejos, visite https://www.safekids.org/tip/swimming-safety-tips.
DAILY READINGS
Weekly reading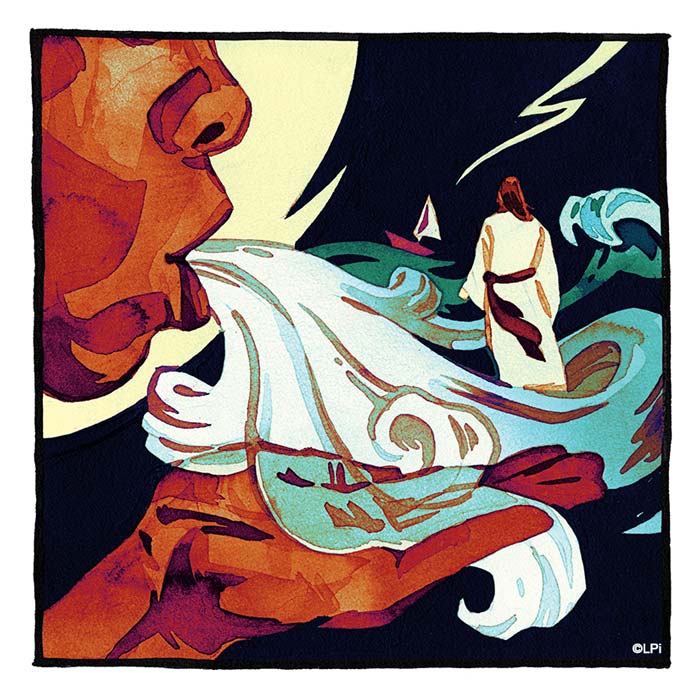 Weekly reading
Readings for the week of June 4, 2023
© Liturgical Publications Inc