Our Church
We, the parish family of Saint Peter Claver, are a Catholic faith community within the Archdiocese of Los Angeles and the Universal Church. Firm in the hope of the Gospel of Jesus Christ and inspired by the example of our patron, we proclaim the kingdom of God to embrace everyone in love without discrimination of any kind. We are devoted to worship, to witness, and joyful service in the Spirit.
ALL ADULTS INVITED!
MASS AND RECONCILIATION
SATURDAY VIGIL MASS:
5:00pm and 7pm Spanish

SUNDAY MASSES:
8:00am, 10:00am, 12:00 Noon and 5:00pm

DAILY MASS:
7:30am Monday thru Saturday

CONFESSIONS:
3:00 to 4:30pm Saturday in the church
2022
-
2023 Faith Formation, Youth Ministry &
Confirmation are off to a great start.
RCIA Session
Sunday, October 9
th
beginning with
Session at 10:30am in the Youth Center followed by
Mass at 12(noon).
Confirmation Sessions
October
2nd for Year 1 at 6pm
-
8:30 and
October 5th for Year 2 at 7
-
8:30
Middle School Youth Ministry
Monday
October 3rd at 7
-8:30
High School Youth Ministry Tuesday October 11th 7-8:30
Registration for First Reconciliation & Holy Communion and for Confirmation, Years One and Two closes on Friday, October 7th.
Flocknotes
OFFICE HOURS
Rectory:
Monday - 1-4:00pm Tuesday - Friday 9-12pm and 1-4:00pm
Please call (805) 526-6499 or
Email [email protected]
Faith Formation:
Monday-Tuesday 1-9pm Wednesday, Friday & Sunday 9am-5pm (varies, please call first)


Please call (805) 526-0680 or
Email [email protected]
Youth Ministry:
Please call (805) 526-0680
Email [email protected]
PRAYER
Eucharistic Adoration

From 8 a.m. through 7 p.m. Monday through Friday
the church is open for Eucharistic Adoration or private prayer time.

SECURE ONLINE GIVING
We are most grateful for your continued financial support. Please consider donating online with St. Peter Claver's online giving system, WeShare. Donate today using your debit, credit card, checking or savings account. With WeShare you can make a one-time or recurring donation to a Collection of your choice.

CLICK HERE to safely donate with WeShare.
LET US TAKE A MOMENT TO REFLECT ON THIS COMING WEEKEND'S READINGS
October 9, 2022
Twenty Eighth Sunday in Ordinary Time
Naaman went down and plunged into the Jordan seven times
at the word of Elisha, the man of God.
His flesh became again like the flesh of a little child,
and he was clean of his leprosy.
2 Kings 5: 14-15
But if we deny him
he will deny us.
If we are unfaithful
he remains faithful,
for he cannot deny himself.
2 Timothy 2:12-13
"Ten were cleansed, were they not?
Where are the other nine?
Has none but this foreigner returned to give thanks to God?"
Then he said to him, "Stand up and go;
your faith has saved you."
Luke 17:18-19
Where is God in this? THOUGHTS FROM YOUR DIRECTOR OF FAITH FORMATION
Safety in Bathrooms and Cafeterias

Did You Know?
At school, bathrooms and cafeterias tend to have informal social rules that differ from those in the classroom. That is why parents should talk to their children about what to do in these settings, especially if bullying or some kind of abusive behavior is happening. Talk about what to do when a classmate says another student is not welcome to join a group at the lunch table, or what to do if another student engages in coercive behavior that puts someone else at risk. For more tips, request a copy of the VIRTUS® article "Three Things That Simply Must Be Done" at lacatholics.org/did-you-know/

¿Sabia Que?

Hable con sus hijos sobre la seguridad en baños y cafeterias - En la escuela, los baños y las cafeterías tienden a tener normas sociales informales que difieren de las del aula de clase. Es por eso que los padres deben hablar con sus hijos sobre qué hacer en estos entornos, especialmente si está ocurriendo intimidación o algún tipo de comportamiento abusivo. Hable sobre qué hacer cuando un compañero de clase dice que otro estudiante no es bienvenido a unirse a un grupo en la mesa del almuerzo, o qué hacer si otro estudiante se involucra en un comportamiento inapropiado que pone a otra persona en riesgo. Para obtener más consejos, solicite una copia del artículo en inglés de VIRTUS® "Three Things That Simply Must Be Done" (Tres cosas
que simplemente deben hacerse) en lacatholics.org/did-you-know/.
DAILY READINGS
Weekly reading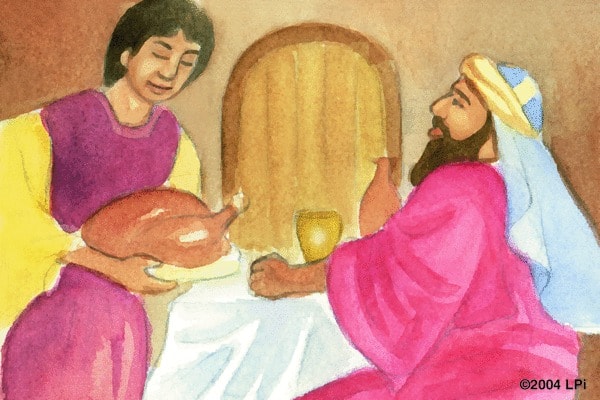 Weekly reading
Readings for the week of October 2, 2022
© Liturgical Publications Inc