I listen to a Christian radio station as I drive to and from work. For the month of November, they challenged people to do acts of kindness that lifted people up. I listened as people called in to share their stories. In trying to bless others with kindness, they themselves were the ones who experienced being lifted up…lifted up to what? To joy. To hope. Closer to Jesus.
Ones that I especially liked hearing about were the people who gave $50 dollars to the grocery store cashier for the person behind them in line or gave extra money to the cashier at a drive thru to pay for the car behind them. These people didn't see the reaction of the people they did the random act of kindness for yet were so full of joy telling their stories.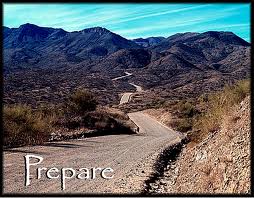 A voice of one crying out in the desert:
 "Prepare the way of the Lord, make straight his paths.
Luke 3:4
John the Baptist's voice rings out in this coming Sunday's Gospel, calling us to prepare for Christ. He says to make straight His paths…what does that mean for us? Kindness.
Let's commit to making straight all the crooked paths of selfishness, hurt, anger, judgmentalism, and meanness through our kindness these weeks of Advent.
Remember receiving a little bag with three specific items in it last Advent?
This week place the Christmas Bell near your Advent Wreath or on your dining room table.
Let it be a reminder to ring out with kind words that lift others up.
Say "please" and "thank you to each other at home."
Tell your teacher at school or your boss at work that you appreciate them.
Say, "God bless you!" with a smile to the cashier at the grocery store or wherever you are shopping.
Prepare the Way by ringing out with kind words this week!