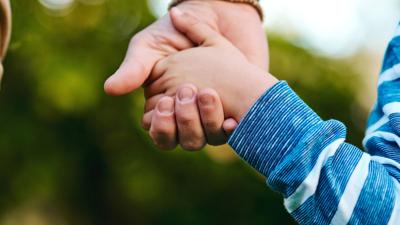 Once again, I was blown away
by parents this past week.
Several parents came into the Faith Formation Office to register for Elementary Faith Formation or Confirmation.
Moms and dads alike.
Some had a child or children with them. Observing the interactions between parents and kids or hearing them talking with each other – I could see and hear love.
Other parents were in a hurry. I can't imagine the busyness that can
come to families, so I always try to be extra caring and friendly.
On Friday I said to one hurried mom, "I hope you're able to get some
rest this weekend!" She replied as she was practically running
back to her car, "Oh no. I'm a mom, there is no rest!"
Saturday, I got up early to get out to the soccer fields in Thousand Oaks to cheer on my nephew and niece in their soccer games at 8 and 10 a.m. Wow. Hundreds of moms and dads out there, many gulping coffee. Children and soccer balls going every which way. Lots of waiting in between games, in the sun which became pretty hot. It was like I stepped into a whole different subculture. As I walked with my sister-in-law pulling a wagon full of their "gear" and kids, I could hear families talking about all the things they needed to do the rest of the day. Again, wow.


Rather, whoever wishes to be great among you will be your servant; whoever wishes to be first among you will be the slave of all. 
For the Son of Man did not come to be served 
but to serve and to give his life as a ransom for many." 
Mark 10:43-45
This coming Sunday Jesus describes a true leader in the Gospel reading. Like Him, a true leader is a servant leader, sacrificing themselves for those they are caring for. Parents. You all bring to life this teaching of Jesus to me. Thank you for all you do out of love. Know I am praying for you!   

Blessings of grace to all you servant leaders out there!