I shot up in bed yesterday thinking, "Oh no! I overslept!"
It was only 3:04 a.m.
My alarm was set for 3:30 a.m. so I was OK.
Slowly people started gathering in the dark at the
Mt. McCoy Trail Head up near Royal and Madera
between 5 and 5:30 a.m.
We turned on flashlights so we could see the trail.

Teens took turns carrying a large wood cross as about 55 of us hiked up.
I asked everyone to hike up in silence and use their imagination in thinking about Jesus' walk with the cross up to Golgotha where He was crucified.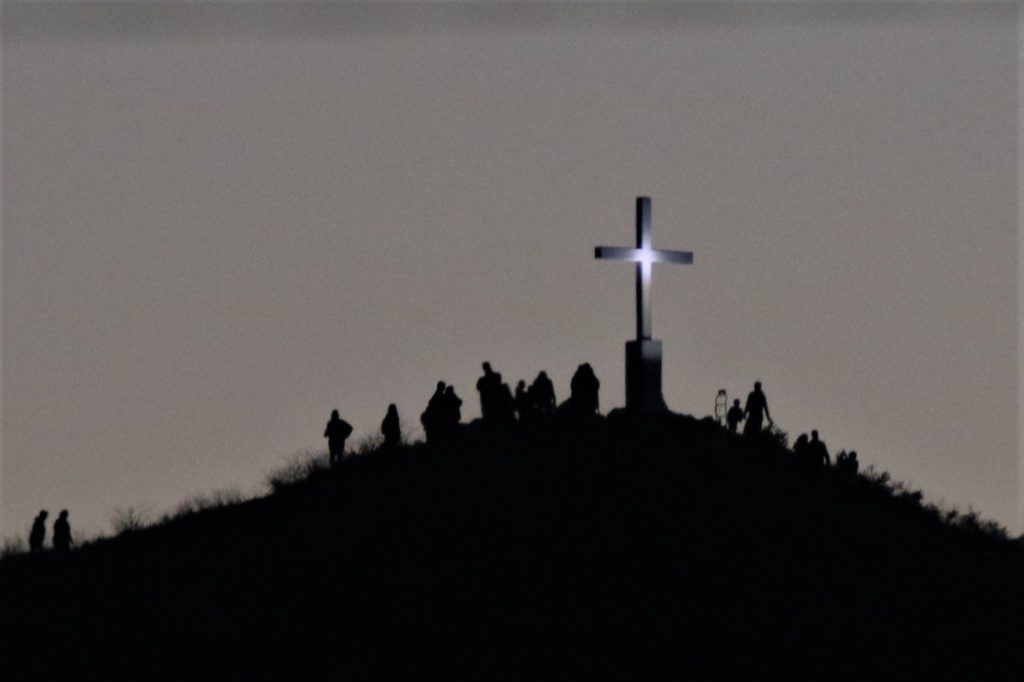 I was one of the last in the long line of hikers and it was incredible to look  up and see them all zigzagging up the trail heading to the large white cross at the top – only seeing the line of lights in the dark.
At the top we all prayed the Stations of the Cross as dawn began to
light the sky.
The beautiful sun came over the horizon as we hiked down.
What a way to begin Holy Week!
At the Holy Thursday Mass Fr. Riz and Fr. Mike will wash 12 people's feet.
So when he had washed their feet and put his garments back on and reclined at table again, he said to them, "Do you realize what I have done for you? You call me 'teacher' and 'master,'  and rightly so, for indeed I am. If I, therefore, the master and teacher, have washed your feet, you ought to wash one another's feet. I have given you a model to follow, so that as I have done for you, you should also do." John 13:12-15

It's an amazing Mass that reminds us of all that Jesus did and said at the Last Supper, including giving us Himself in the Eucharist.






At the Celebration of the Lord's Passion at noon on Good Friday we are invited to venerate or with great respect, touch or bow before the cross.
But he was pierced for our offenses, crushed for our sins; upon him was the chastisement that makes us whole, by his stripes we were healed. 
Isaiah 53:5
I was raised to spend time in quiet prayer at noon until 3 p.m. on
Good Friday to show my love for Jesus as He hung on the cross. Coming to church at noon is a good way to be with Jesus.
And at the Easter Vigil on Saturday, we celebrate God's redemptive love for us that culminates in the Resurrection of Jesus.
Then the angel said to the women in reply, "Do not be afraid! I know that you are seeking Jesus the crucified. He is not here, for he has been raised just as he said. Come and see the place where he lay. Then go quickly and tell his disciples, 'He has been raised from the dead… Matthew 28:5-7a

At the Easter Vigil Mass on Saturday teens and/or adults that want to become Catholic are Baptized by being fully immersed in the Baptismal Font, are Confirmed, and receive their First Communion. We are excited to celebrate with Joshua as he becomes Catholic!
Come to Mass as you celebrate Easter and let your family hear the joyful, hopeful words of the story of Jesus' Resurrection. Believe and share the hope of the Resurrection by telling the story and through your kind words and actions!
Holy Week blessings!