Today is the first day of May.
It is the feast day of Saint Joseph the Worker. That is the name of the parish where I grew up.
I was Baptized there, celebrated my first Reconciliation, my first Holy Communion, and my Confirmation there. My relationship with Jesus grew there as I volunteered in helping with what was then called CCD (now called Faith Formation), and then becoming part of the Youth Ministry team. Saint Joseph the Worker became the first parish I worked at over 30 years ago.
I was just there last week for Thelma's funeral. What memories.
Saint Joseph the Worker himself is a hero to me and one of my favorite saints.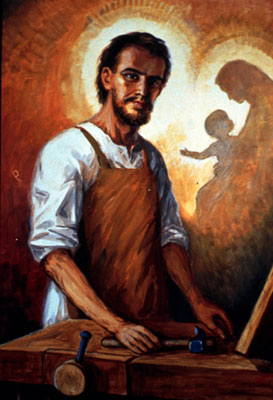 He loved God. He trusted God. He surrendered to God, which enabled him to build the Holy Family, caring for Jesus and Mary. And Saint Joseph worked hard for his family. He is the patron saint of families, fathers, expectant mothers, foster parents, travelers, immigrants, house sellers and buyers, craftsmen, engineers, landscapers and working people, among others.
This verse from this coming Sunday's Second Reading I think describes Saint Joseph – he let himself be built into a spiritual house, which brought the blessings of becoming Mary's husband and Jesus' foster or stepfather.
Beloved: Come to him, a living stone, rejected by human beings but chosen and precious in the sight of God, and, like living stones, let yourselves be built into a spiritual house…
1 Peter 2:4-5a
As we begin a new month, let's surrender ourselves to Jesus and let ourselves be built into a spiritual house of faith, hope, and love.
And today I ask Saint Joseph the Worker to pray for each of us.
Continued blessings of Easter life!