My Dear Parishioners,
Jesus Christ has given us the apostles and their successors to lead the Church so that His mission to bring all peoples to Himself will continue to be done. We need to trust in the Holy Spirit whom Jesus sent on Pentecost Day to guide our Church and protect her from the evil one who tries very hard to destroy her. The Holy Spirit assures us that He will not lead us astray. So, I am asking all of us to put our confidence in our Holy Father Pope Francis as Vicar of Christ through the guidance of the Holy Spirit to direct us and teach us.
The coronavirus pandemic is not going away soon. it will be with us until the Health Department Authorities tell us that COVID-19 vaccine is working to protect people from contracting the virus. Even if science can bring about a cure to this coronavirus there is no guarantee that people will just suddenly get back to normalcy. I am sure that people will still be burdened by all the losses they have encountered because of the pandemic.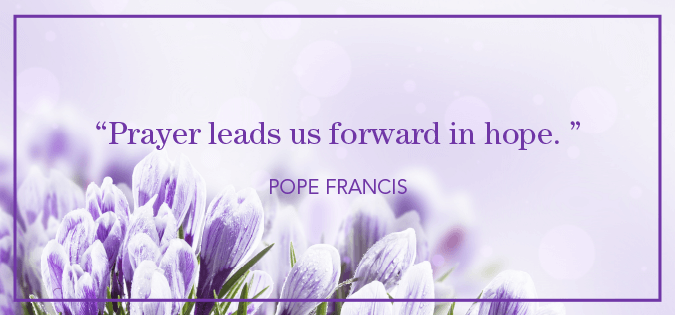 More than ever, we need God's help if we want to see an end to this pandemic and we need to pray. Here is a message from Pope Francis on Prayer:    
"Praying to God in times of joy and sorrow is a natural, human thing to do because it connects men and women to their Father in heaven. While oftentimes, people can look for their own solutions to their suffering and difficulties, ultimately, we should not be shocked if we feel the need to pray, we should not be ashamed," the pope said.
Do not be ashamed to pray, 'Lord, I need this. Lord, I am in difficulty. Help me!' Such prayers are 'the cry, the cry of the heart to God who is the Father.'
Christians, should pray 'not only in bad times, but also in happy ones, to thank God for everything that is given to us, and not to take anything for granted or as if it were owed to us: everything is grace.'
Reflection on prayers of petition
Prayers of petition, including the 'Our Father,' were taught by Christ so that we might place ourselves in a relationship of filial trust with God and ask him all our questions. Although the prayer includes imploring God for 'the highest gifts,' such as 'the sanctification of His name among people, the advent of his lordship, the realization of His will for good in relation to the world, it also includes requests for ordinary gifts.
In the Our Father, we also pray for the simplest gifts, for the most of everyday gifts, such as 'daily bread' -- which also means health, home, work, everyday things; and it also means for the Eucharist, necessary for life in Christ.
Christians, also pray for the forgiveness of sins, which is a daily matter; we are always in need of forgiveness, and therefore, peace in our relationships. And finally, that He may help us face temptation and free us from evil.
Asking or supplicating God is very human, especially when someone can no longer hold on to the illusion that we do not need anything, that we are enough for ourselves, and we live in total self-sufficiency.
At times, it seems that everything collapses, that the life lived so far has been in vain. And in these situations, when it seems that everything is falling apart, there is only one way out: the cry, the prayer, 'Lord, help me!'
Prayers of petition go hand in hand with accepting one's limitations, and while one may even reach the point of not believing in God, 'it is difficult not to believe in prayer.' Prayer simply exists; it presents itself to us as a cry. And we all know this inner voice that may remain silent for a long time, but one day awakens and cries out.
Pope Francis encouraged Christians to pray and not be ashamed to express the desires of their hearts. The season of Advent, he added, serves as a reminder that prayer is always a question of patience, always, of withstanding the wait.
"Now we are in the time of Advent, a time that is typically of expectation, of the expectation of Christmas. We are in waiting. This is clear to see. But all our life is also in waiting. And prayer is always in expectation, because we know that the Lord will answer," the pope said.
My friends, yes, the Lord will surely answer our prayers but in His own terms and in His own time!
Peace,
Fr. Riz
+++++++++++++++++++++++++++++++++
Mis Queridos Parroquianos,
Jesucristo nos ha dado a los apóstoles y sus sucesores para dirigir la Iglesia para que Su misión de traer a todas las personas a El continua para realizar. Necesitamos confiar en el Espíritu Santo a quien Jesús mando en el día de Pentecostés para guiar a nuestra Iglesia y protegerla del malvado que se esfuerza mucho para destruirla. El Espíritu Santo nos asegura que Él no nos guiara por mal camino. Entonces, yo les pido a todos que pongamos nuestra confianza en nuestro Santo Padre Papa Francisco como Vicario de Cristo a quien con la dirección del Espíritu Santo nos dirige y enseña.
La pandemia del coronavirus no se ira pronto. Estará con nosotros hasta que el Departamento de Salud nos diga que la vacuna para el COVID-19 está funcionando en proteger a las personas evitando que contraigan el virus. Aunque la ciencia logre encontrar una cura a este coronavirus no hay garantía que la gente repentinamente podrá regresar a la normalidad. Yo estoy seguro de que la gente seguirá sufriendo por toda la perdida que han enfrentado por esta pandemia.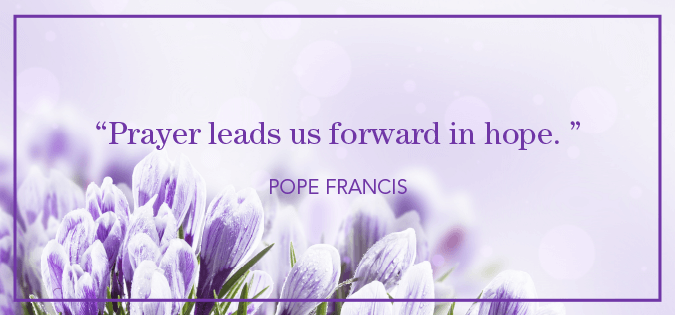 Mas que nunca, nosotros necesitamos la ayuda de Dios si queremos ver un fin a esta pandemia, y necesitamos rezar. Aquí está un mensaje del Papa Francisco referente a rezar:
"Rezarle a Dios en tiempos de alegría y de angustia es algo natural, es algo humano que se hace porque conecta a los hombres y mujeres al Padre en el cielo.  Mientras muchas veces, la gente puede buscar sus propias soluciones a su sufrimiento y dificultades, en última instancia, no nos debemos asombrar si sentimos la necesidad de rezar, no debemos avergonzarnos," dijo El Papa
No se avergüenzan de rezar, 'Señor, yo necesito esto. Señor, estoy teniendo dificultades. ¡Ayúdeme! Estos rezos son 'el llanto, el llanto del corazón a Dios quien es el Padre." Cristianos, deben rezar 'no solo en momentos malos, pero también en los tiempos de Felicidad, a darle gracias a Dios por todo lo que se nos da, y a no dar todo por hecho o como que si todo se nos debe: todo es una gracia.'
Reflexión sobre rezos de petición
Rezos de petición, incluyendo el 'Padre Nuestro,' fueron enseñados por Cristo para que nos pongamos en una relación filial de confianza con Dios y hacerle todas nuestras preguntas. Aunque el rezo incluya que le imploremos a Dios por 'los más grandes regalos,' como es 'la santificación de Su nombre entre la gente, el advenimiento de su señoría, la realización de Su voluntad por el bien en relación al mundo, también incluye el pedido de regalos ordinarios. En el Padre Nuestro, también rezamos por los regalos más sencillos, pues la mayoría de los regalos del día a día, como 'el pan de cada día'—que también significa salud, hogar, trabajo, cosas del día a día; y también significa la Eucaristía, necesario para la vida en Cristo.
Cristianos, también rezan por el perdón de los pecados, que son asunto diario; nosotros siempre estamos en necesidad de ser perdonados, y por lo tanto, paz en nuestras relaciones. Y finalmente, que Él nos ayude a enfrentar la tentación y que nos libre del mal.
Pidiendo o suplicando a Dios es muy humano, especialmente cuando alguien no puede más mantener la ilusión de que no necesitamos algo, que somos suficientes nosotros mismos, y que vivimos autosuficientemente. Hay momentos, en cuando parece que todo se derrumba, que la vida que se ha vivido ha sido en vano. Y en estas situaciones, cuando parece que todo se está desarmando, hay una sola salida: el llanto, el rezo, 'Señor, ¡ayúdame!'
Rezos de petición van mano a mano con aceptar las limitaciones que uno tiene, y mientras uno tal vez pueda alcanzar el punto de no creer en Dios, 'es difícil no creer en la oración.' Rezar simplemente existe; se presenta como un llanto. Y todos conocemos esa voz interna que puede permanecer en silencio por un largo tiempo, pero un día despierta y grita.
El Papa Francisco anima a los cristianos a rezar y no avergonzarse de expresar los deseos de sus corazones. La temporada de Adviento, el agrega, sirve como recordatorio que el rezo siempre es cuestión de paciencia, siempre, de aguantar la espera.
"Ahora estamos en el tiempo de Adviento, un tiempo que típicamente es de expectativa, de la expectativa de Navidad. Estamos en espera. Esto está claro para verlo. Pero toda nuestra vida también es en espera. Y el rezo es siempre una expectativa, porque sabemos que el Señor va a responder," dice el Papa.
Mis amigos, si, ¡el Señor sin duda contestara nuestras oraciones, pero en Sus propios términos y en Su propio tiempo!
Paz,
Padre Riz